Upcoming Events
Please note, in order to mitigate the community spread of coronavirus, Governor Hogan has implemented a comprehensive list of actions to take. This includes the prohibition of large gatherings/events. Therefore the Green Bowie Expo that was set to take place April 18th has been canceled. Further, the Bowie CLAW Meet and Greet is temporarily suspended until the state of emergency has been lifted. We will keep you informed.
Although the Bowie CLAW meeting generally have less than 50 people attending, we feel that for the safety of our friends and members, it is best to cancel the March 21st meeting. We will keep in touch via Facebook and Claw Tawk.
Coronavirus and Your Pet
According to the World Health Organization, there is no evidence that companion animals such as dogs or cats can be infected with the new coronavirus as of now. Covid-19 transmits primarily through droplets of coughing, sneezing, saliva, or discharge from the nose. While pets generate droplets, there are barriers for the virus to jump from humans to animals, and vice versa. So even in a rare situation, when a pet carries the virus, it is still unlikely that it would spread to a person.
As more people start social distancing and working from home, you are likely to be in more frequent contact with your dog, cat or another pet. WHO advises washing your hands with soap and water after contact with pets. It's the pet owners, rather than pets, that have a higher risk of spreading the virus.
The Human Society of the United States has posted information on what they are doing to address this crisis, and information on how you can care for your pet. See https://www.humanesociety.org/resources/coronavirus-covid-19-faq
St. Patrick's Day Pet Safety
St. Patrick's day is here. Shamrocks and everything Irish! Celebrate this fun day but do take a few precautions with your pets.
Keep alcoholic beverages away from pets: Dogs love the smell and flavor of alcohol, and they will drink it if given the opportunity. Place your drinks out of your pet's reach. Alcohol can be toxic to pets.
Parades/celebrations and loud noises can make your pet nervous: If you are having a party, your pet might not wish to participate. Separate your pet in a quiet room with a distraction like a radio or television.
Shamrocks are poisonous: Shamrocks are traditionally Irish and beautiful, but they are toxic to pets. Keep them out of your pet's way. Fortunately these plans aren't the tastiest, but don't risk it.
Pets in green! Dressing your pet up like a Leprechaun? If you do is used to wearing seaters, sure s/he is likely to be good with this. But not all pets appreciate costumes. Don't force the issue.
Clover – the Lucky Kitten!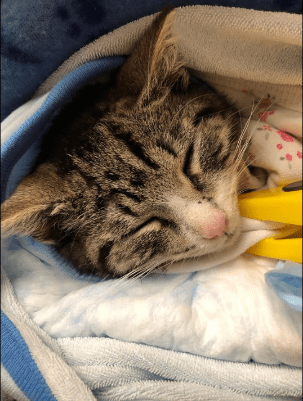 We believe little Clover was struck by a vehicle prior to February 18. Bowie CLAW made it possible for Clover to receive the surgery she needed – repairing her broken front and back leg, and amputating her broken tail.  Clover has been battling a blood infection, anemia, ear infection, roundworm and constant diarrhea – but this little girl is a FIGHTER!  She continues to gain strength every day and her health is greatly improving.  Clover is being cared for by two, dedicated CLAW volunteers, Michaele Angulo and Nancy Laubenthal.
Clover's medical bills have been extensive. Fortunately, amazingly generous people have made donations toward the cost of her continuing care. We know there will be more medical expenses for Clover, so if you can, please help with the cost of her recovery. NO DONATION IS TOO SMALL and all donations are greatly appreciated! Clover has a long road to recovery – but she's feisty and determined to be a healthy, active kitten! Please continue to keep her in your thoughts and send positive, healing vibes her way! Be sure to follow Clover's progress on the Bowie CLAW Facebook page
General meeting Saturday, March 21st has been canceled
Sign up for Smile.Amazon and iGive online—a percentage of your online purchases will be donated to Bowie CLAW at no cost to you. Federal employees, please consider supporting Bowie CLAW in your Combined Federal Campaign (CFC) contributions this year. Our Campaign Number is 15690. Thank you!