Upcoming Events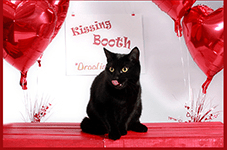 Join us for Purrs and Pooches Who Give Smooches at the Calvert Brewery. Honey Bee Photography will be taking Valentine Day photos of your pet on January 25th from 12-4. Contact Megan of Honey Be Photography for details at 240-766-8966 to schedule your 10 minute session for your fur babies! Your $20 donation helps support Bowie CLAW. Bespoke luxury photography experiences are uncommon and authentic, which means they are about you. http://www.honeybeephotography.com/thehiveblog.html
Upcoming CLAW Meeting
Reminder City Hall will no longer be open to the public on Saturdays. We will now be meeting bimonthly at Kenhill Center (2614 Kenhill Drive – the old City Hall). We be in room 126 for the following third Saturdays of alternating months in 2020. Meeting times remain at 9:30. Fortunately, food and drinks are permitted, so coffee and doughnuts will be served! Our first meeting at our new location is January 18th.
Working to Repeal Discriminatory Breed-Specific Ban
Bowie CLAW has been advocating for several years the repeal of Animal Control Ordinance Section 3-185.01 that bans in Prince George's County those dogs labeled as pit bull terriers. Last November our County Council passed a broad range of improvements to the ordinances that promote animal welfare as well as citizen safety. But the repeal of the breed-specific ban failed at the last minute.
We have the opportunity now, with the support of Council members Turner, Glaros, Harrison, and Davis, to enact a repeal of Section 3-185.01. Prince George's County is the only jurisdiction within the DMV and the states of Maryland, Virginia, Delaware, Pennsylvania and New Jersey that prohibits such labeled dogs. They are discriminatorily euthanized based solely on appearance, not scientific fact, unless rescued by an out-of-county rescue organization. As a result, hundreds of innocent dogs that pass behavior evaluations die every year. Please contact your Council members at the following addresses and let them know that you want our County to repeal this minimally effective, discriminatory, inhumane, and expensive mandate. You will find your district representative at pgccouncil.us/443/Councilmanic Districts; click on the district maps to determine your council member, and be sure to write to the two At-large members who represent you as well.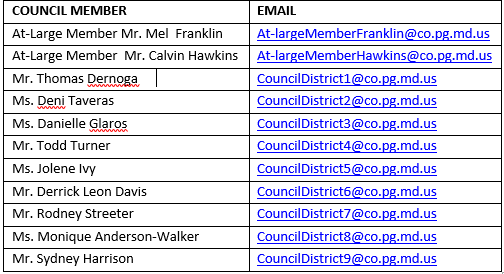 New Year's Resolutions with Your Pets (from HomePet.com)
Resolution #1: Measure your pet's food….every time! Like us, it's all too easy for a pet's weight to gradually creep up over time. Obesity in pets is a serious health concern.
Resolution #2: Get more exercise. When it comes to health and weight control, diet is only part of this equation and in order to maintain (or lose) weight, an increase in activity is also necessary in order to meet these goals.
Resolution #3: Try a new activity. From doga to hiking, bikejoring to kayaking, it's easier than ever for you to incorporate your dog into a new exercise routine.
Resolution #4: Incorporate more play time. While taking your cat hiking isn't a practical approach to upping the step count of our feline friends, incorporating more playtime definitely is!
Resolution #5: Schedule a check-up with your vet. Have your veterinarian examine your pet at least once a year to make sure he or she is healthy and to help detect any potential problems early.
Resolution #6: Update your pet's ID info. Now is the time to ensure that your pet has an up to date tag and microchip information. It's the best way to ensure a lost pet makes their way safely home.
Resolution #7: Clear out old toys. Take a fresh look at your pet's toy collection and stop holding on to old, tatty, and often germ-infested pet toys.
Resolution #8: Grooming time. Not only does grooming your pet remove excess fur from the coat and so reduce the amount you find on your clothes and furniture, it also helps to distribute oils from the skin to the fur, keeping the coat shiny and healthy.
Resolution #9: Create a safe, happy home and garden. Make sure all potentially harmful substances (such as cleaning products and medications) are kept in cabinets that your pet cannot easily reach and access.
Resolution #10: Seek more natural ways to support your pet's health. Integrated' health care for pets can combine the best of conventional Veterinary medicine alongside diet and nutrition, supplements, herbal and homeopathic formulas, physiotherapy and acupressure and acupuncture.
See you at our general meeting Saturday, January 18th
9:30 am Kenhill Center Hall (Old City Hall)
Sign up for Smile.Amazon and iGive online—a percentage of your online purchases will be donated to Bowie CLAW at no cost to you. Federal employees, please consider supporting Bowie CLAW in your Combined Federal Campaign (CFC) contributions this year. Our Campaign Number is 15690. Thank you!