Past and Upcoming Events
Thank you to all who participated in Photos with Santa at Calvert Brewery (brought to you by Honey Bee Photography).
We have some fun events coming up! The Mutt Strut will take place Saturday January 25th from 11am-1pm at the Bowie Community Center, Stoneybrook Drive. We plan to be an exhibitor and are looking for volunteers! This event is sponsored by M-NCPPC and focuses on providing pet owners with resources that aid in the health and development of their furry companions. It will feature a social hour and fashion show for dogs and their owners! How much fun is that!!! There will also be information about the importance of spaying and neutering. Please plan to attend.
In February, get ready for kisses with your pooches at the Calvert Brewery. Honey Bee Photography will be taking Valentine Day photos of your pet.. And finally, bring on your Irish with our St. Pawtrick's Day celebration at the Calvert Brewery. Stay tuned for exact dates.
If you are interested in leading or assisting at these events (or others) we would so appreciate your help! Drop us an email at BowieClaw @ gmail.com letting us know of your availability and interest.
Upcoming CLAW Meetings
Changes are coming. City Hall will no longer be open to the public on Saturdays. We will now be meeting bimonthly at Kenhill Center (2614 Kenhill Drive – the old City Hall). We be in room 126 for the following third Saturdays of alternating months in 2020. Meeting times remain at 9:30. Fortunately, food and drinks are permitted, so coffee and doughnuts will be served! – January 18th March 21st May 16th July 18th Sept 19th November 21st Mark your calendar now!
Thank You!!!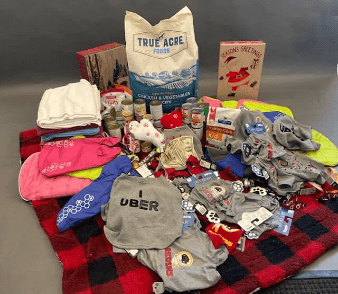 We are so grateful to Belair Veterinary Hospital and Photographer Mark Honke for their Photo Christmas fundraiser for our pet food pantry! We received winter clothes as well as food, treats, toys, and monetary donation!
We also received generous donations from Custom Cuts Horticulture & Design. They have been great supporters of our community cat program. Christian Community Presbyterian Church invited us to participate in their annual Christmas Market, and we appreciate the generous support we received from their community this year. And we are always grateful to our faithful donors who make possible all our efforts.
Bumps and Lumps
So what should a pet owner do when they find a new or changing lump? Schedule an appointment to have any and all lumps examined, measured and charted. This will help to track any changes that may occur over time. The suspicious lumps should be aspirated to identify any unusual cells. (Lump aspiration can be done in an office call. It requires sticking a small needle into the lump to pull out a few cells to identify under the microscope. From this we can many times tell if the lump is serious or not).
So why are we addressing this issue now? Well since we have been more proactive about these lumps we have found many tumors that needed to be removed. Some of these lumps have been previously called fatty tumors because of how they felt, but once tested turned out to be cancer. If we catch the cancers early, then the chance of surgical cure increases.
So now that the weather is colder and your pet is snuggled up next to you and you feel a lump, old or new, it needs to be checked out. Call your vet and get things assessed. Don't let a small problem become a big problem by procrastinating
(This information provided by Spay Now Animal Clinic – Laurel, MD)
See you at our general meeting Saturday, January 18th
9:30 am Kenhill Center Hall (Old City Hall)
Sign up for Smile.Amazon and iGive online—a percentage of your online purchases will be donated to Bowie CLAW at no cost to you. Federal employees, please consider supporting Bowie CLAW in your Combined Federal Campaign (CFC) contributions this year. Our Campaign Number is 15690. Thank you!