Upcoming Events
Saturday, October 19th from 10:00 AM to 2:00 PM is our annual Bowie CLAW Blanket Drive. We will be collecting blankets and quilts, sheets and bath towels curbside at Ledo Pizza & Pub (formerly TJ Elliot's – 6814 Laurel Bowie Rd.). Sorry, no pillows, afghans, table linens or rugs please. We could use volunteers for this event. Help us make the dogs and cats at the Prince George's County Shelter a little warmer this year. If you are available, please contact Tara at BowieAnimalShelter@gmail.com or BowieClaw@gmail.com.
Other upcoming events – There will be a Feral Winter Shelters Workshop October 26th at 3:00 PM. Please contact us if you are interested in attending. We are also accepting donations of Styrofoam coolers and boxes to use in making cat houses. Photos with Santa at Calvert Brewery and the Christmas Market will take place November 9th. Stay tuned for details. If you are willing to volunteer, please reach out to us at BowieCLAW@gmail.com.
Volunteer Showcase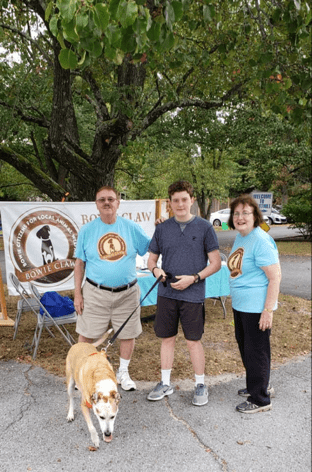 For his school project Mike Kane has been volunteering for Bowie Claw. At the Kaleidoscope event, Mike handled Jayda, our very sweet guest from the Prince George's Animal Shelter. He also prepared bags of treats for the Bowie Marketplace Chic-fil-A to be given to dogs at the drive thru. And next, he is volunteering at our Blanket Drive October 19th. It's great having such an enthusiastic supporter!
Community Cat Program Update
During the project year (October 1, 2018 – September 30, 2019), we sterilized and vaccinated a total of 188 cats: 91 males and 97 females. That is 157% of our assigned goal for the year!. We could not do this without our incredible volunteer trappers! THANK YOU!
National Animal Safety and Protection Month
We never expect an emergency. No matter what we do, accidents happen. Take steps to be prepared and be aware. Be safe and protect your treasured furry friend.
Be proactive. Keep all animals up to date on immunizations. Farmers, ranchers and pet owners, and hobbyists: all follow the vaccination schedule set forth by your veterinarian.
Pet-proof your home and property. Remove or secure choking hazards and toxic chemicals. Make your home pet-friendly and safe.
Identify your animals. Place tags securely on collars and even label collars with your contact information. Microchip all pets. If you have more uncommon pets, take photos of them in the event they get loose.
In a disaster, have a plan. Who will be responsible for locating each animal in the house? How will you transport them? If it's a fire, human life takes priority. However, place decals on windows and doors with the number of humans and each kind and number of pets residing in the home. Keep the decals up to date.
Learn basic first aid. Caring for your animal at home will prevent a minor injury from becoming severe. Always call your veterinarian or emergency animal hospital if you are unsure.
Know your animal. If your animal's behavior changes, watch for signs of illness. Is he injured or spent too much time in the heat? Contact your veterinarian before giving human over-the-counter medications.
See you at our general meeting Saturday November 16th
Sign up for Smile.Amazon and iGive online—a percentage of your online purchases will be donated to Bowie CLAW at no cost to you. Federal employees, please consider supporting Bowie CLAW in your Combined Federal Campaign (CFC) contributions this year. Our Campaign Number is 15690. Thank you!