Upcoming Events
September 21 – General Membership Meeting: 9:30 am at Bowie City Hall. YOU are invited!
Sept 28th–we will be participating again this year in Kaleidoscope, a community event held on the lawn of Cresthill Church on Rt. 197. We will have adoptable dogs from the Prince George's Animal Adoption Center from 10-1, and lots of information about Bowie CLAW from 10-2. Come out and look for us!
Other upcoming events – our annual Bowie CLAW blanket drive, photos with Santa at Calvert Brewery, and the Christmas Market. Stay tuned for dates. If you are willing to volunteer, please reach out to us at BowieCLAW@gmail.com.
Diamond Dogs
It is the end of another great season of the Bowie Baysox Diamond Dogs! Throughout the baseball season Bowie CLAW and other area animal shelters and rescue organizations have been bringing one dog to the Prince George's Stadium during home games to help them find their forever homes. Bowie CLAW set up a table on the concourse where fans could meet the Diamond Dog of the Game and learn more about our group and help the area animals. Bowie CLAW worked with some great rescues groups include Lab Rescue of Capital Potomac, Canine Companions for Independence, Lu's Labs, and All Shepherd Rescue. If you missed it, make sure to come out next year!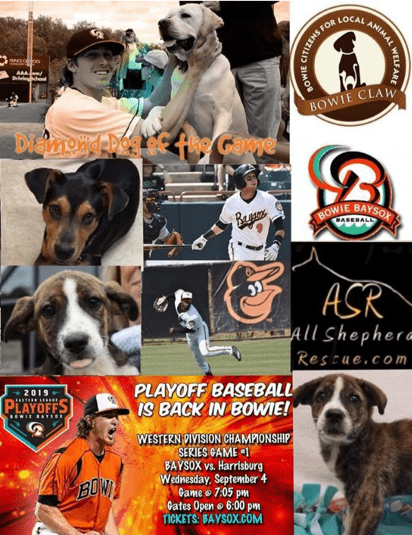 Stressed? Your dog might be too!
Research indicates that dogs can mirror their owners' stress levels. When researchers measured the stress hormone cortisol in a group of dogs and their owners, they found that levels synchronized. Interestingly, the researchers determined that the dogs' stress levels rose in response to their owners' stress levels, rather than vice-versa. More research is needed to further confirm this finding, but if your dog seems stressed, maybe look to see if you're stressed. Take time to laugh with friends, take up a yoga or meditation class, get into an exercise program, AND of course, walk and snuggle with your dog.
A Big (but Sad) Farewell
Deb Forespring, one of our wonderful Bowie CLAW Directors, is moving to Delaware. Deb has been very active with our Community Cat program, and the new Kitten Socialization program with Bowie Animal Control. We are very sad to see her go; but we wish her the very best. Wherever she goes, we know there will be some lucky animals!
Of course, this means a Director seat is now open. If you have been an active Bowie CLAW member for at least three months, you qualify to join the Board of Directors!Pleaseconsiderthis position – it is great fun to be with like-minded animal-loving people?Contact us at bowieclaw@gmail.com
Thank you!
Over the past few months we have received a tremendous number of donations. We are so appreciative of the generosity. As many of you already know, we are a fully volunteer operated organization. Every contribution matters!