Past and Upcoming Events
Mark your calendar, this Saturday, July 20th is our next general meeting. We gather at 9:30 am at Bowie City Hall for coffee and donuts. Please come meet our new Board of Directors and bring a friend – the more the merrier. Meet other wonderful pet people!
Take me out to the ball game! The Baysox Diamond Dog games are up and running. Only three more games left! Just as a reminder, throughout the baseball season Bowie CLAW and other area animal shelters and rescue organizations have been bringing one dog to the Prince George's Stadium during home games to help them find their forever homes. We will have a table on the concourse where fans can meet the Diamond Dog of the Game and learn more about what our group is doing to help the area animals. Join us at the following Sunday home games and maybe find your new forever friend.
July 21st LRCP
August 4th Canine Companions for Independence
August 25th Lu's Labs
Meet CLAW's New Officers and Directors
Officers: President- Paul Nadler, Vice President- Michael Semeniuk, Secretary/Treasurer- Virginia Jones
Directors: Tara Kelley-Baker, Deb Forespring, Hugh Hammett, Michael Semeniuk , Paul Nadler,and Virginia Jones.
There remains one vacant Director position to which the Board may appoint an interested candidate for one year until the next annual election. If you are a member and interested, please reach out and let us know!
Kittens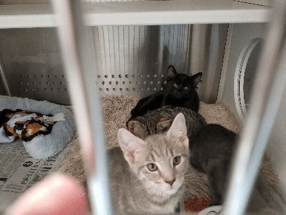 Bowie CLAW's newest of programs couldn't be more adorable.  And we need your support to make it successful.  We are looking for volunteers to socialize kittens. Socializing and caring for feral kittens requires devotion, patience, and attention. The more contact they have with humans, the easier it is to find them a safe forever home.   If you have a lot of love to give, these babies could use it. If you are interested, please email us at bowieclaw@gmail.com
See you at our general meeting Saturday July 20th!