Past and Upcoming Events
Thank you to those who came out to the Bowie Fest! A number of people stopped by our kiosk including the parent of Kismet, the lost (and found) blind cat who Bowie CLAW helped to locate. We also gained a new member and made some donations. Thanks Lauren Semeniuk for leading this great event – and Paul Nadler and Deb Forespring (among others) for volunteering.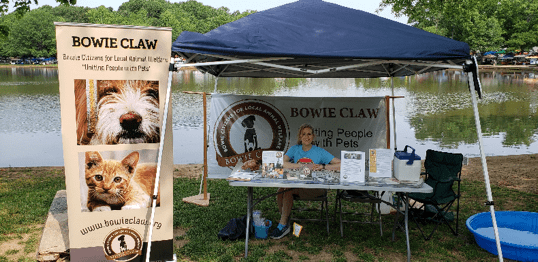 Traveling With Your Pet
Its summer vacation! Thinking of taking your beloved furry friend? Traveling with your pet(s) can be stressful, for both of you. But there are things you can do to minimize this stress.
BEFORE YOU GO, make sure your pet is fit to travel. Some animals simply cannot handle travel due to age, temperament, illness, etc. Have all the proper identification for your furry friend. Get an id tag with your home address and cell number, as well as a temporary tag with the location and phone number of the hotel or place you plan to stay. If you haven't already, get your pet microchipped. Take photos of your pet's medical documents and save them on your phone (or make a copy and toss them into your bag). For a comprehensive guide to traveling with pets, see https://thepointsguy.com/guide/how-to-travel-with-pets/ This guide will give you advice on car travel, in-cabin air travel, cargo air travel, as well as booking pet friendly hotel stays. Enjoy your vacation with your pet, but plan so your furry friend can stay safe!
Help Repeal Prince George's County's Anti-Pit Bull Ordinance
We recently learned that the Humane Rescue Alliance is partnering with a coalition of organizations working to repeal Prince George's County's ordinance prohibiting owning or keeping a dog labeled as a pit bull terrier. Please contact your Prince George's County Councilmember and the At-Large Councilmembers and urge them to support the repeal of the ordinance. Dogs should be deemed dangerous or potentially dangerous based on a set of observed, concrete behaviors and criteria, not based on appearance and stereotypes.
Help ensure Prince George's County joins the thousands of other cities, towns, and counties that have created a safe and humane community for their residents and their pets through sound public policy, rooted in science.
Election of Directors
At the recent General Membership Meeting of Bowie CLAW on May 18, the annual election of the Board of Directors was held. Elected to a three-year term were Hugh Hammett, Virginia Jones, and Michael Semeniuk. Deb Forespring was elected to fill out the remaining two years of one position. Tara Kelley-Baker and Paul Nadler continue to serve for another year in their positions. There remains one Director position vacant for which the Board can choose to appoint an interested candidate for one year until the next annual election. If you are an active member and interested in serving, please reach out to us!
See you at our next General Meeting Saturday July 20th!