Past and Upcoming Events
Thank you to those who came out to celebrate St. PAWtrick's day with us! A special thanks to the volunteers: Maria Berrocal, Ronald Bond, Naiyaeliz Dunn, Jayla Hubb, Alina Benitez, Julie and Jaylin Rivas, Trinity and Tayah Hutchins, and Jessica and Sophia Chavez for helping with the event. Caricatures were done by Avionne Akanbi (here is Paul Nadler and his pup!). And of course a round of applause for the Hunt School of Irish Dance!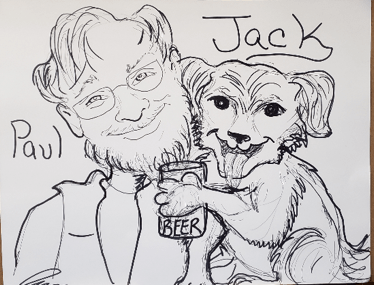 Lots of great events are coming up!
April 13th Bowie CLAW will be at the Bowie Green Expo. The event takes place at Kenhill Center from 12-4.
April 28th The annual Bowie CLAW Meet and Greet! Visit us at the Food Court lawn at Bowie Town Center. We will have dogs available for adoption from the Prince George's Services and Adoption Center.
May 4th Bowie CLAW's Pet Round-up at the Texas Roadhouse in Bowie from 3-6:30pm. This is an adoption event in the parking lot of TX Roadhouse involving 9 rescues/animal shelters featuring adoptable cats, kittens, dogs, puppies, bunnies and guinea pigs looking for forever homes. Flyers will be forthcoming so you can present a flyer to your server and either dine-in or carry- out. Bowie CLAW gets 10% of your food sale on that day!
May 18th Bowie CLAW General Meeting at Bowie City Hall at 9:30 am. We invite and welcome everyone to join us.
May, 22nd and 23rd – United Way of the National Capital Area "DoMore24 Power your Community Campaign." Bowie CLAW will have 24 hours during this campaign to raise much needed money for our Pet Assistance and Support (PAS) and feral kitten socialization program. Keep a look-out for our video!
We are seeking volunteers for all these events. Please email us at BowieCLAW@gmail.com.
Upcoming General CLAW Meeting
At the upcoming general meeting, May 18th,@9:30 a.m. we will be holding an election for the Board of Directors. Five positions are opening on the Board. To keep Bowie CLAW active and to continue the PAS program, we need active members who are willing to serve on this Board. Please consider this opportunity and submit your interest by April 11th to Virginia Jones (current Secretary) and/or Teresa Ruiz (current President) at BowieCLAW@gmail.com.
Scoop that Poop!
There are important reasons to clean up after your dog. When your dog does his business in the yard and the park (including the dog park), decomposition begins. Disease-causing bacteria and parasites seep into the soil and travel with the rain water runoff. These harmful bacteria and parasites become part of the local streams, rivers, and lakes. People, including kids, play in and come into contact with the contaminated water. Just one dog can produce 248 pounds of waste a year – there are 23 million bacteria in 1 tiny gram of dog poop. Please do your part in keeping us all safe and healthy. Enjoy being outside and have a very happy Spring! Go out and walk your dog – and scoop that poop!
See you at our general meeting Saturday May 18t!
Hey, federal employees! Please consider supporting Bowie CLAW in your Combined Federal Campaign (CFC) contributions this year! Our Campaign Number is 15690. Thank you! And sign up for Smile.Amazon and at iGive.com, select Bowie Citizens for Local Animal Welfare, and a percentage of your online purchases will be donated at no additional expense to you–WIN-WIN for all.