What You Can Do To Help
There are variety of ways that you can assist us!
We are pleased to take donations to support our activities, and are deeply grateful for any assistance you can provide.  To send your tax deductible donation, please (1) mail it to Bowie CLAW, PO box 116, Bowie MD 20719; (2) click the PayPal "Donate" link on the right side of the page; or (3) contact us at BowieCLAW@gmail.com.  You can also support CLAW at no cost to you by making your purchases from Amazon.com through our AmazonSmile account.  To sign up for AmazonSmile, follow the link on the right.
If you would like to support our Pet Assistance & Support (PAS) program in particular, please mark your donation "PAS program."  You can also donate canned cat or dog food, dry cat or dog food, kitty litter, treats and toys at one of our many local drop-off sites.  See our Pet Assistant & Support page for more details on the program and drop-off sites.
Bowie CLAW is proud to be a participating member of the Combined Federal Campaign (CFC).  If you are a federal employee, we would really appreciate your support!  Our Campaign Number is 15690.  Thank you!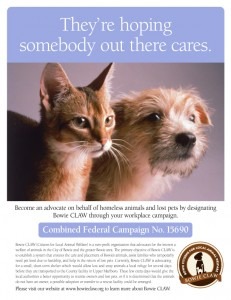 Thank you for your support!