Leash Cutting Ceremony
On Saturday, February 7th, 2015, the City of Bowie officially opened its Temporary Animal Holding Rooms with a "Leash Cutting" Ceremony.  This event marks a major milestone in Bowie CLAW's history, as CLAW was founded years ago specifically to lobby for the establishment of a local shelter.  Our mission has grown substantially since our early days, however, and much work remains.  Nonetheless, Bowie CLAW is very happy that the facility is now open, and we look forward to our ongoing, fruitful partnership with the City of Bowie!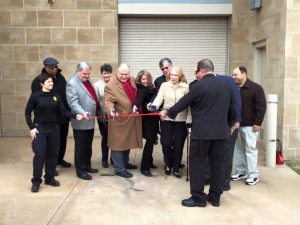 Bowie CLAW's President and Vice President participate in the leash cutting, along with Bowie Mayor G. Frederick Robinson, the entire Bowie City Council, and Bowie's Animal Control Officers.